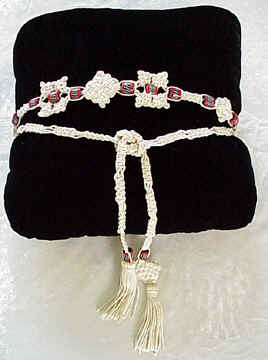 Beads were purchased to coordinate with the linen cord. The design of the belt would be a casual double wrap. Two equal strands were measured and the center marked. The linen was then soaked in heavy corn starch and allowed to dry. Potential for abrasion was high since each cord would be pulled all the way through each knot.
I started the belt in the center with a large pan chang using double cords. A bead was added then four small single pan changs around another bead. Another bead followed, then square knots and a bead. A small double corded pan chang, a bead and a series of square and half square knots made up the longest portion of the belt. A wide belt with too many large knots is not practical or flattering to the waist line. This configuration of knots was duplicated for the other side of the belt. One side of the belt was finished with a large, double corded pan change and a tassel. The other side just finished with a large tassel. The belt hangs better if both ends are not identical.
To finish the belt,, it was washed in very hot water with a small amount of bleach. After rinsing it was blocked flat in a sunny window. For extra body you can starch the belt. Wear the belt loosely at the waist of a black or blue denim dress.